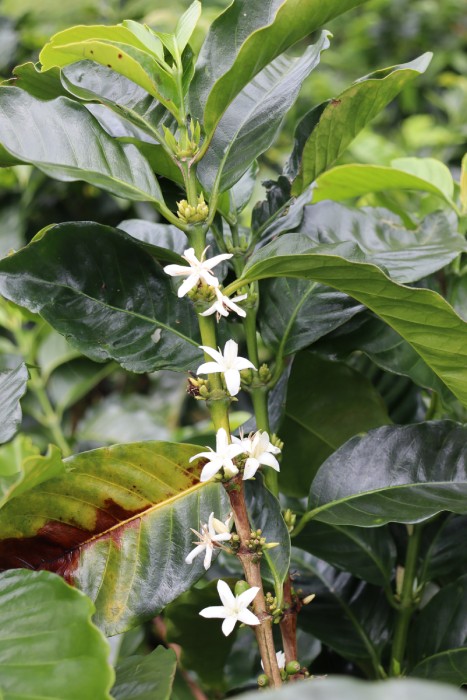 Colombia – Luis Anibal Calderón – Microlot
$19.25 – $77.00
This microlot is 100% Caturra. This variety originated in Minas Gerais, Brazil. It is a natural mutation of Red Bourbon. Caturra produces more coffee and is more resistant to plant diseases than Bourbon.
Tasting notes of blackberry, caramel, lime & chamomile make for a beautifully balanced cup.
This coffee is harvested following strict ripeness criteria, later floated and hand-sorted to remove any defects. Cherries are exposed to 30 hours of underwater fermentation before being de-pulped. Parchment is gently washed and later dried under temperature-controlled conditions until ideal moisture content was achieved.
ABOUT THE GROWER
Luis Anibal is a second-generation coffee grower born in Acevedo, Huila. When he turned 15, his father gifted him a small portion of land from which he was able to start saving some profits. At age 30, Luis got married and had 3 sons. When he turned 40, he owned a 20-hectare farm – Villa Betulia. Luis Anibal asked a local bank for a large loan to enable him to purchase his second farm. Unfortunately, the C-price began to drop for the next two years and Anibal wasn't making any profit, so he had to sell the farm he had dreamed about to pay back 40% of the loan. In 2011 Luis Anibal was at risk of losing his remaining farm to the bank and needed to improve his financial situation. Which lead him to his town's specialty coffee association. They paid 15% above the C-market price, which was not enough to reward the effort needed to produce specialty coffee. In2012 Luis Anibal planted 5000 Gesha trees.
Luis Anibal was one of the first farmers in Huila to produce high-end micro-lots as well as master alternative processing methods such as extended fermentation, honey, and natural. Now, on his farm, you'll find all sorts of exotic varietals including Gesha, Tabi, Red Bourbon, Java, Sidra, Caturra, Typica, Maragogype, Pacamara, Pink Bourbon, Papayo, Mokka among others. In harvest, he provides jobs to people around, having an economic impact on the community.
In 2019, Luis Anibal, under the guidance of Cofinet (our green bean supplier) began planting native trees amongst his coffee trees to reduce the need for fertilizers, preserve his soil and improve his cup quality. Also Luis, along with the assistance of Cofinet, has worked to improve his processing techniques of high-end microlots.
| | |
| --- | --- |
| Size | 250g, 500g, 1kg |
| Grind | Beans, Plunger, Filter, Stovetop, Espresso |
| Region | Acevedo, Huila |
| Processing | Washed |
| Farm | Villa Betulia |
| Altitude | 1500 – 1600m.a.s.l |
| Botanical Cultivars | 100% Caturra |
| Temperature | 18°C – 24°C |
| Soil Characteristics | Volcanic Ash |
| Annual Rainfall | 1700 – 2000mm |