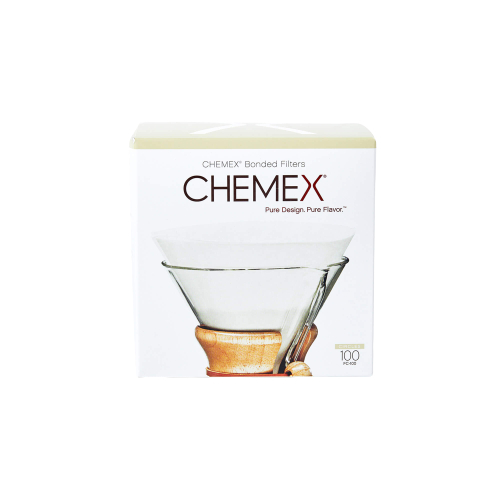 Chemex Bonded Filters
$16.90
Chemex Filters are 20-30% thicker than other filters and designed to keep bitter elements, oils and grounds in place and out of your cup.
As it says on the box "there are no substitutes for perfection".
The FC-100 pre folded circles fit the Chemex 6, 8 and 10 cup coffee makers.
What makes CHEMEX Bonded™ Filters the real deal?
Prefolded for convenience.
Cone-shape ensures uniform extraction for pure coffee flavor.
Will fit most other cone-shaped filter coffeemakers.
CHEMEX Bonded™ filters remove undesirable elements from the coffee and are compostable.
Thicker (20-30% more than most of the competition) fiber filter design keeps bitter elements, fats and grounds in place and out of your cup.
Oxygen cleansing is a bleach-free process, ensuring no chemical residue or taste is imparted to the filter.
Works well with all types of roasts- even tea!
The CHEMEX® coffeemaker brewing system is a preferred method of roasters and baristas worldwide.
Our filter paper is manufactured in the USA from North American materials only, adhering to responsible and sustainable practices.
Easy clean-up. No trays, no baskets, just simply remove the filter and discard.
Fits all CHEMEX® Coffeemakers except three cup Class Series (CM-1C), three cup Handblown Series (CM-1), three cup Glass Handle Series (CM-1GH), and the Funnex (CM-FNX).
| | |
| --- | --- |
| Weight | N/A |
| Size | FC-100 Pre Folded Circles |